Gephyrophillia | Watch This Space #88
Originally Posted on 10/13/2003 by Jeff Harris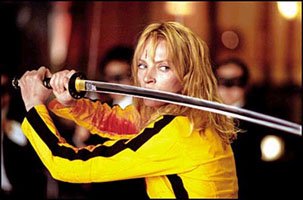 Yes, that is Uma Thurman, the star of Quentin Tarantino's fourth film, Kill Bill, Vol. 1. She plays The Bride, a lady who was once a member of the Deadly Viper Assassination Squad until one fateful day when her fellow DiVAS, following the orders of their boss, decided to ruin her wedding day. Great movie. I reviewed it here, for your perusal.
Yes, it's live-action that's not based on any animated or comic book franchise. You may ask yourself why am I reviewing it around here at the X Bridge, a site dedicated to all things action-animation and comic oriented?
Two reasons.
The movie is very, very good. That's the first reason. The second reason is because Kill Bill, Vol. 1 is destined to become a major anime franchise. Production I.G. animated the origin of O-Ren Ishii and how she became so damned evil. Correct me if I'm wrong, but I believe that this is the first anime sequence ever produced for an American film. I also heard reports that Tarantino is planning to make an animated prequel to Kill Bill that showcases the DiVAS and answers many of the lingering questions left from Vol. 2, which is coming out in February, and Production I.G. will likely be the ones animating it.
American-led endeavors like The Animatrix and Kill Bill represent a great attempt to bridge the great divide between Hollywood and anime. More and more people are recognizing the artform that is anime, and as much as the jaded otaku want to keep it to themselves, this embrace is actually a good thing. Sure, we'll probably never see a mature anime film in theaters nationwide in traditional theaters, and it'll never be accepted in main street Boise, but at least the traditional studios are recognizing the impact anime has made throughout the world. Sure, some are doing it for a short-term financial gains, but you know, that's not a bad thing because, um, they're actually making money with anime. Ten years ago, anime was just strange, unmarketable cartoons that'll never be popular in Hollywood. Now, major studios like Sony and Dreamworks are creating divisions just for anime distribution. I'm just wondering when Time-Warner, who makes a good chunk of their ad revenue from outlets that show anime, is going to fully embrace anime by snagging exclusive international rights to anime shows and movies as well as become active producers of anime projects for our audience.
Kill Bill will be remembered for many things, but hopefully, it'll be one of the footnotes for creating the bridge between anime and America cinema to create fine entertainment.
Or maybe I'm just reading too much into a small anime scene in a major Hollywood production.
*end transmission*
Jeff Harris,
The X Bridge Creator/Webmaster
October 13, 2003
Archives
Gephyrophillia Archives
From Page One to the current Geph article. The voice of The X Bridge for many years. Still crossing bridges. More »
Imagination Archives
Nothing can compare with this in its purest form. At least, that's what the lyric said. The creative side of The X Bridge in archival form. More »
Thoughtnami Archives
Opinions from the mind of Jeff Harris. More »
Toonami Archives
The Legacy Project's complete list of Toonami-based articles from The X Bridge (and a few not found elsewhere). More »
Have A Question?
Contact my Formspring account. More »